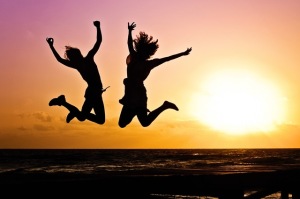 It doesn't take a math degree to understand the diet plan equation: fewer calories IN than OUT equals weight loss. That means that the #1 tool in the fight against fat is a well-planned, healthy diet, but it also means that you need to get moving; exercise is your friend if you want to lose weight quickly. Muscle burns more calories even when you're just sitting at your desk working on that report the boss wants pronto, so the fitter you are, the more your metabolism works in your favor. Plus, let's face it, thin but flabby is nobody's goal.
But just because you need to exercise doesn't mean it has to be in a pay-to-play fitness club or trendy–yet-expensive group exercise class. While both of those options have merit, and both work very well for many people, they aren't your only choices. If you are watching your wallet as closely as your calories, or you simply prefer to find your own exercise opportunities, there are lots of places to get in that morning, afternoon, or evening workout without having to pay a signup fee.
Your own living room is always an option, of course. A set of dumbbells and resistance bands, along with a treadmill or mini-trampoline, and you're all set for a full workout. But sometimes, you just want to get outdoors. When that craving strikes, head for any of the following.
Local playground: No, it's not just for the preschool crowd. Your local playground offers a bounty of exercise options that are not only vigorous — they're FUN. Head to the swings to tone your legs, core, and rear. Swing along the parallel bars or jungle gym to strengthen your arms, shoulders, and chest. Having fun on the playground merry-go-round is a great way to work your legs, arms, and shoulders. Clamber over the monkey bars or shimmy up the climbing pole. You'll likely find that your mind feels as good as your body.
High school or college stadium: If there's a nearby high school or community college with an open stadium, you're set. Tune in to your favorite playlist and run laps around the track. Feel the burn in your rear and legs while jogging up and down the stadium steps. Stop and do a few planks or pushups to get your upper body in on the action.
Take a hike: Most areas have at least one or two scenic hiking trails within a reasonable distance, and Orange County is no exception. You'll work your body and ease your mind hiking any of the local hot spots:
• Huntington Beach
• El Dorado Park
• Mile Square Regional Park
• Trabuco Canyon
• Peters Canyon
• Crystal Cove
The Beach: One of the joys of southern California is the miles of beaches. Take a cooling dip, go for a jog on the sand, rent a bicycle and cruise the boardwalk: all great ways to tone your entire body.