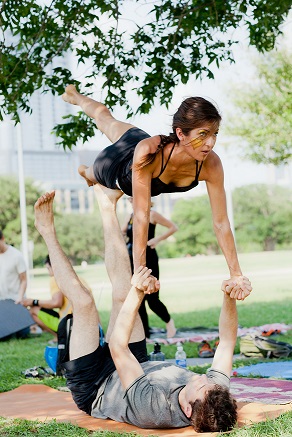 If you're not already working out with your partner, it's never too late to get started. You may be surprised to find out how many different forms of motivation can arise from such a simple idea, one that can lead to friendly competitions with seemingly endless favors and/or chores that can be assigned to whoever loses each respective battle. This can be one of the most invigorating and fun-filled ideas, which can help take your mind off of the strain involved when it comes to pushing your strength and stamina to the limit. Whether racing to the top of the hill or around the track, the terms should be set as to what's at stake, and no cheating allowed! You've already promised to stay within the confines of your diet; exercise routines should be no different, unless of course your partner in crime is a complete pushover.
If it turns out that your significant other doesn't necessarily have a competitive spirit or nature, begging isn't entirely out of the question. Chances are, you've probably established that you already know how to push his/her buttons, and using the guilt-trip factor can go a long way as well. Bribery can also work to your advantage, as many relationships seem to have built-in trade-off systems designed to appease your other half, and vice-versa.
If you have a gym membership and the love of your life doesn't, it's an easy call to make. A six-month to one-year membership free of charge should at least get your partner thinking about it, and a few new pairs of free workout garb and cross-trainers wouldn't hurt your cause either.
If you're not interested in going to the gym, plenty of other ways to convince your partner to exercise with you are available, such as hiking or biking and trekking down to the boardwalk, swimming, or simply going for long walks on the beach. With so many different things to do in Southern California, the sky seems to be the blue limit of possibilities.
Targeted goals and rewards are likely part of your diet and exercise routine already, meaning that it makes good sense to have your spousal equivalent contribute to your efforts as well. The sensible approach can also be used, which can only add to the list of the things you do together with style, grace, and a little sweat added to the mix can end up being a blessing in disguise. Asking your mate to help you get where you need to be may turn out to be the easiest way to induce the type of response you're looking for, and it never hurts to ask!