Want to snack on something quick & simple and healthy? Try these!
– Calories per Serving: 190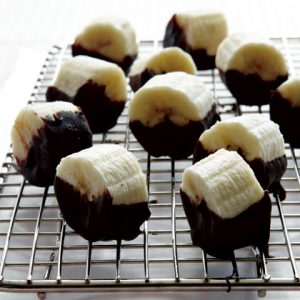 – Protein per Serving: 2g
Ingredients
2 tablespoons semisweet chocolate chips
1 small banana, peeled and cut into 1-inch chunks
Preparation
1. Place chocolate chips in a heavy-duty zip-top plastic bag or small microwave-safe bowl. Microwave at HIGH 1 minute or until chocolate melts. Dip banana pieces in chocolate.
Recipe from Health.com