Total Time: 20 min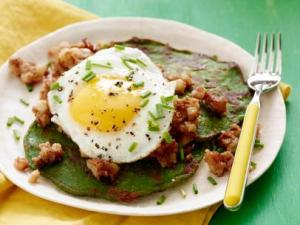 Prep: 10 min
Cook: 10 min
Ingredients
1 cup whole milk
1 large egg
1 cup frozen chopped spinach, defrosted and squeezed dry (about 3 to 4 ounces after squeezing)
1/3 cup loosely packed chopped chives
1 cup flour
1 teaspoon baking powder
Kosher salt and freshly grated black pepper
1 cup grated sharp or medium Cheddar cheese
1 -2 tablespoons butter
Toppings:
4 fried eggs
2 cups prepared corned beef hash, your own recipe or canned
2 tablespoons chopped chives
Directions:
Blend the milk, egg, spinach, chives, flour, baking powder, 1/2 teaspoon kosher salt and a few grinds of black pepper in a blender on medium-high, scraping down sides occasionally, until completely mixed and bright green. Transfer to a bowl and stir in the cheese.
Heat a large nonstick skillet over medium heat and add about 1 teaspoon of butter to the pan, heat through until foaming subsides. Ladle about 1/4 cup of the batter onto the skillet; use the back of your ladle or a spoon to spread it slightly. Pour 1 or 2 more pancakes, taking care to keep them evenly spaced apart. Cook until the top is set and starting to bubble, and the undersides are browned and crisp at the edges, 2 to 3 minutes. Flip with a spatula and cook another 2 minutes on the second side adjusting the heat if the cakes are browning before the cakes fully set. Serve immediately or transfer to a platter and cover loosely with foil to keep warm. Repeat with the remaining batter, adding more butter to the skillet as needed, you should have 8 to 10 pancakes.
To serve pancakes, transfer 2 pancakes to each plate, top with 1/2 cup corned beef hash, a fried egg and a sprinkling of chives.
From Food Network Kitchens
http://www.foodnetwork.com/recipes/food-network-kitchens/st-patricks-day-spinach-pancakes-and-corned-beef-hash.html