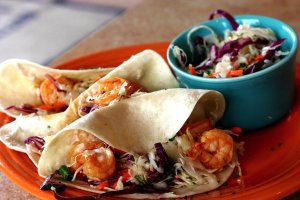 Yields: 6 servings
Serving size: 2 tacos with coleslaw
Calories: 347
Protein: 15 g
Ingredients
1 tablespoon olive oil
1 lime, juiced
1/4 teaspoon ground cumin
1/4 teaspoon paprika
1/4 teaspoon red pepper flakes
1 pound medium shrimp, peeled and deveined
1/4 teaspoon salt
8 (6-inch) corn tortillas
1 batch of our Sweet and Tangy Coleslaw or other coleslaw of choice
Directions
Combine olive oil, lime juice, cumin, paprika, and red pepper in a small bowl. Combine shrimp and spice mixture in a zip-top plastic bag, and seal. Let stand 15 minutes.
Remove shrimp from bag; discard marinade.
Heat a grill pan over medium-high heat.
Sprinkle shrimp with 1/8-teaspoon salt.
Arrange half of shrimp in pan; grill 2 minutes on each side or until done.
Remove from pan; keep warm. Repeat procedure with remaining shrimp.
Place shrimp evenly in warm tortillas and the coleslaw.
Recipe by SkinnyMs.com