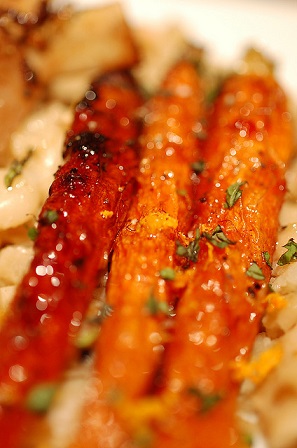 Roasted Carrots
Ingredients
2 garlic cloves, finely grated
1/4 cup olive oil
1/4 cup pure maple syrup
1 tablespoon harissa paste
2 teaspoons cumin seeds
Kosher salt, freshly ground pepper
2 1/2 pounds small rainbow carrots, scrubbed, tops trimmed to about 1/2″, halved
1 lemon, thinly sliced, seeds removed
Directions
Preheat oven to 450°. Whisk garlic, oil, maple syrup, harissa, and cumin seeds in a small bowl; season garlic mixture with salt and pepper.
Toss carrots and lemon with garlic mixture in a large roasting pan to coat; season with salt and pepper. Roast, tossing occasionally, until carrots are tender and lemons are caramelized, 35–40 minutes.
Do ahead: Carrots can be roasted 6 hours ahead. Let cool; cover and chill. Bring to room temperature or reheat slightly before serving.