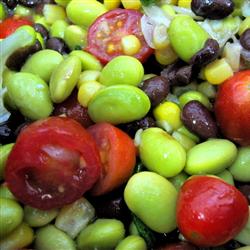 Ingredients:
Original recipe makes 8 servings
5 tablespoons red wine vinegar
3 tablespoons grapeseed oil
1/3 cup chopped fresh cilantro
2 limes, juiced
1 teaspoon white sugar
3/4 teaspoon salt
2 cloves garlic, minced
1 (1 pound) package frozen shelled edamame (green soybeans)
3 cups frozen corn kernels
1 pint cherry tomatoes, quartered
4 green onions, thinly sliced
1 (15 ounce) can black beans, rinsed and drained
Directions:
In a large serving bowl, whisk together the red wine vinegar, grapeseed oil, cilantro, lime juice, sugar, salt and garlic. Set aside.
Bring a large pot of lightly salted water to a boil. Add the soybeans and boil for 3 minutes. Add corn to the boiling water and continue cooking for 1 more minute. Drain very well, and pour into the bowl with the dressing. Gently mix in the cherry tomatoes, green onions and black beans. Cover and refrigerate for at least 2 hours before serving to chill and blend the flavors.